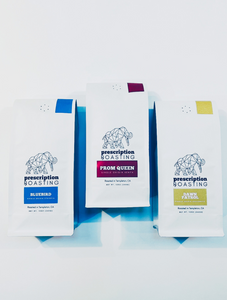 Prescription Roasting
Summer Triage
Regular price
$48.00
$0.00
Unit price
per
Never run out of coffee again. VIEW SUBSCRIPTIONS
PRESCRIPTION ROASTING: SUMMER TRIAGE

Summertime and the livin' is easy.
Snag this three-pack with our brand-new Prom Queen Single Origin from Kenya, and two classic bangers with Bluebird from Ethiopia and Dawn Patrol from Guatemala. 

Crowd-pleasers perfect for impressing all your friends on weekend getaways. 
12 oz. PROM QUEEN Kenya Single Origin
12 oz. DAWN PATROL Guatemala Single Origin
12 oz. BLUEBIRD Ethiopia Single Origin
ROAST SCHEDULE:
We at Prescription Roasting want you to receive the freshest coffee possible.
We roast every week on Tuesdays and ship Wednesdays.

Place your order by noon on Tuesday and we'll get it shipped fresh the next day.
---